The Art in Galleries
---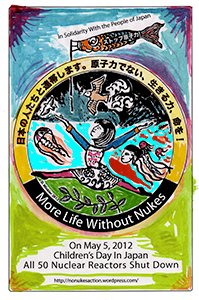 More Life Without Nukes

This poster commemorates the short lived yet historic moment when Japan closed all 50 of its Nuclear power plants. The event will be rivaled in history by the indifference from the surrounding nations to the still leaking Fukushima power plant. The imminent possibility of nuclear catastrophe still exists. All Scientists to Fukushima.

Visit them at:
No Nukes Action Committee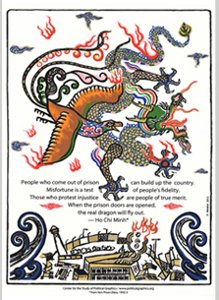 Prison Dragon Poem

The Center for the Study of Political Graphics organized a traveling show entitled Prison Nation, and commissioned this poster. The Asian dragon I use symbolizes many positive attributes including unity. It is a popular icon throughout the world. This poster has been placed in prisons, prison rights offices and shown in many communities all over the country. It is my hope that the un-incarcerated will read Ho Chi Minh's poem, which he wrote from prison, and help the many locked unnecessarily in cages.

Visit them at:
Center for the Study of Political Graphics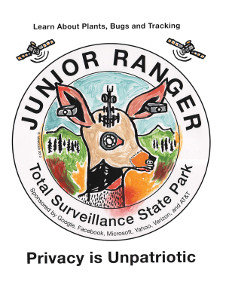 Privacy is Unpatriotic

This was created for a good old fashion 4th of July celebration in El Cerrito, California. I believe that the appropriate response to the government's attempt to chill our free speech is more free speech. Courage is contagious. Thank You Chelsey Manning and Edward Snowden.
— For regular contributions.

SynBioWatch
— For the Accidental Release Plan poster.